That's what I'm doing right now in this post. Writing my last post before I go off to Blackpool for the weekend!
Nothing majorly exciting to report, but I did start my CHRISTMAS SHOPPING! Scary I know, slap me with a wet trout now for just mentioning the 'C' word.
BUT with saving up for a wedding I'm trying to be good with my money, so off to the carboot sale it was! We went to the big one in Clitheroe which is pretty HUGE. Now everyone has there own opinions on second hand stuff, but I wont lie...I love looking through stuff! As long as its not totally wrecked, and you got it cheap I don't see a problem, especially as my kids are aged 5 and 2 I'm going to get second hand stuff before they get to the age where they say 'ewww second hand...proper skank!'
I got some good stuff too!
A Mega Bloks pull along truck: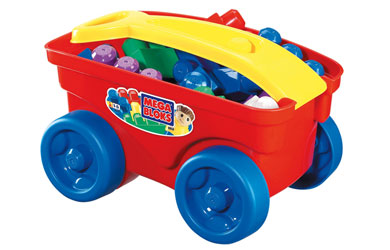 RRP £30
2x Mega Bloks Vehicles
One Yellow, One Green
RRP £10 each = £20
Mega Bloks Play Table:
RRP £30
And a carrier bag of Bloks:
RRP £10
Thats £90 worth of haul...£90!!! Go on make a guess how much I paid?...go on?...No I really do want you to guess! Because now I'm going to hit you right in the knackers with what I DID pay......
£4.50!!!
Now tell me carboots are a bad thing? My kids sure as hell wont mind that someone else played with beforehand, just look at what they got! So that's part of a Christmas present sorted and put away.
What other goodies did I get?
A green monster single duvet set for Kai...£2! I mean come on...Ive saved at least £10 there too!

A Grobag for Abbi. Anyone who knows what these are will know they are expensive!
Something similar to this:
50p I paid!
I also got some cute stuff for Abbi to grow into, a little dress and a few outfits branded NEXT for £1 each
Also got:
£1 each!
I'm actually probably going to miss the carboot this Sunday with being at Blackpool, I'll be craving bargains.
I don't mind rooting through a few boxes if I find a cute dress for Abbi at the bottom, but what I will draw the line at (again each to their own) ...is rooting through a box of underwear! I walked past one woman who was squatting in front of a box, and I peered over her shoulder to find it full of bra's. I'm sorry but there is no way I could ever buy underwear from a carboot, all I can imagine is that some heffer has had her sweaty bangers in one of those hammocks, and I'm not prepared to put it anywhere near me. And Adam....If your reading this, if I find one of those faded grey bras under the Christmas tree with my name on it, I'm going to wrap it round your conk.....FACT! (for those of you with dirty minds...it was not a typo...I meant CONK as in...nose!) ;)
I came away from the carboot sale pretty chuffed with my buys, and then got really excited when we walked into Tesco and found this water table (which I was only pining over the other week in Toys R Us) was in the sale!:
RRP Toys R Us £70
In Tescos at the minute: £36.99!
BARGAIN
Abbi LOVES splashing around in my mum n dads water feature so this is going to be perfect. Fair enough they cant actually use it at Christmas because it will be too cold....but the price was to good to pass up so they will just have to wait till the weather gets warmer next year ha ha. Cruel!
Ebay is also a good source! Last night we went to collect a Smart Trike 3-in-1:
Roughly retailing at £60-70
And we got one for £15!
So guys, don't go crazy in the shops nearer Christmas and paying over the odds, Ebay, Carboot and get sale items!
I can just tell this post has spurred you on to go hunting....so happy carbooting this Sunday, you lucky lucky people. Wish I could go!!
See you all next week :) xx